Canoo; to provide NASA with EV for space mission 'Artemis'
EV startup Canoo, reported that has been selected by NASA for a contract out of a pool of multiple bidders.
Canoo is set to  provide NASA with at ts EVs to transport Artemis astronauts from their preparation building to the launchpad.
NASA's bidding parameters are that the EV(s) have zero-emissions, a minimum range of 50 miles (80.5 km), and room to seat eight people.
Canoo's Lifestyle Vehicle,
feels like the automaker's best available option, although it only seats seven according to the company website.
Canoo will provide with their flagship EV  that will be manufacturing for NASA and the Artemis program.
*Canoo tweet on Nasa deal
Meet NASA's new Crew Transportation Vehicle.

We're honored to be chosen by one of the most respected institutions in the world for this mission. #Canoo x @NASA: There is Space for Everybody #Artemis #moonshot

Read more: https://t.co/HPAGlc9Fdd pic.twitter.com/xIPf7l13hN

— Canoo (@canoo) April 13, 2022
In the official statement Canoo confirmed that,
NASA publicized confidence in Canoo, stating it is "excited for this partnership and looks forward to seeing the next generation of crew transport vehicles." Canoo should be excited at the opportunity as well
Within the press release, Canoo Chairman and CEO Tony Aquila spoke to the award saying;
'We are honored to transport the Artemis crew to the launch site for the first human lunar landing in more than 50 years. The selection of our innovative technologies by NASA to take a diverse team of American astronauts to the moon showcases a great commitment to sustainable transportation. As a high-tech mobility company, we are inspired by NASA's pioneering and trailblazing spirit'
*Canoo EV prototype vehicle at display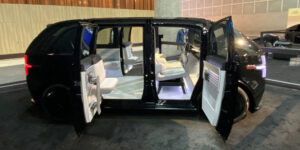 @thejournalbiz
Source:Canoo/Insideev
Image:Canoo.inc