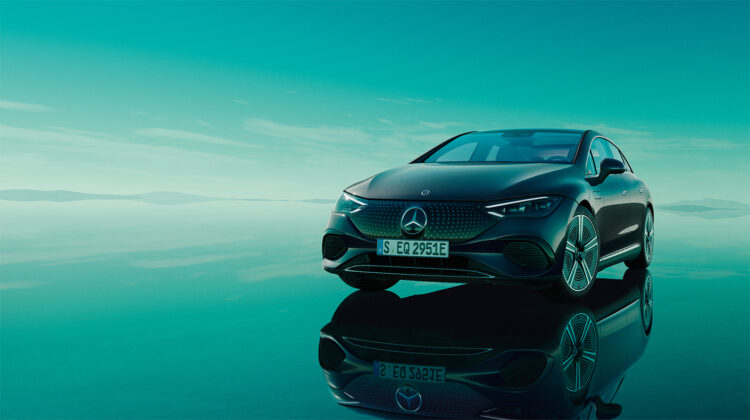 Mercedes set to rival Tesla in EV market!
The next fully electric luxury car from Mercedes-Benz, the 2023 EQE sedan,
will closely follow the introduction of the 2022 Mercedes EQS flagship and arrives late in 2022.
As the EQS is the electric S-Class equivalent, the 2023 Mercedes EQE is the electric E-Class equivalent. In prototype form it measured 196.6 inches long, 77.2 inches wide, and 59.5 inches high—all within an inch of the Tesla Model S.
The EQE is also close enough in size and positioning to call the Porsche Taycan and Audi E-Tron GT rivals, as well as the upcoming Lucid Air
*Mercedes benz tweet on EQS model
Every detail electrifies. The all-electric #EQS leads the way with its futuristic design details and cutting-edge technology.#MercedesEQ #ProgressiveLuxury pic.twitter.com/UjT66YENJh

— Mercedes-Benz (@MercedesBenz) April 16, 2021
The EQE rides on the same dedicated EV platform as the EQS
and has a remarkably long wheelbase of 122.9 inches, over seven inches longer than that of the gas-powered E-Class sedan. That permits a lot more cabin and occupant space,
the visual stretch of the space from the front wheels to the front doors makes the EQE look especially long without another car next to it for context.Mecedes reports
Unlike both the Model S and the EQS which are hatchbacks,the EQE is a traditional sedan.
Mercedes indicated that they explored putting a hatch on the EQE, but the hinges would impede too much on rear seat headroom so it went with a more traditional sedan solution.
The AMG EQE performance model will arrive in early 2023,
offering a dual-motor AWD setup that 617 hp and 701 lb-ft, or up to 677 hp and 738 lb-ft with the boost mode that's a part of the Dynamic Plus package.
Mercedes has quoted a 0-60 mph time of 3.2 seconds with that package equipped.
That aligns with the more powerful AMG EQE 53 model that Europe will get soon.
A flat 90.6-kwh lithium-ion battery pack resides flat under the floor and, apparently, uses a very high level of its energy as usable capacity.
Mercedes-Benz claims a 410-mile range based on the European WLTP cycle
The pack will charge up in 9.5 hour with a 32-amp Level 2 (240-volt) connector, and DC fast-charging at 110 kw will allow a boost from 10 to 80 percent in 30 minutes. 
Source: Mercedes/Cardrive/Thejournalbiz
Photo:Mercedes.inc