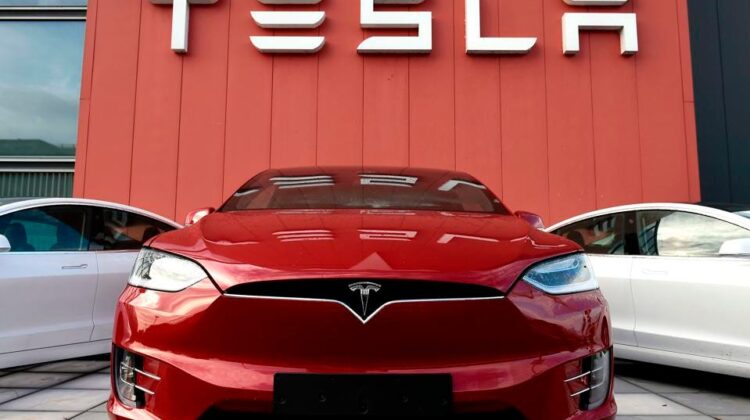 Tesla opens in Texas the largest auto-factory in the world!
Tesla delivered their first Model Y made-in-Texas vehicles on Thursday,
saying the company was entering a new phase and teasing coming products including a dedicated robotaxi.
"We are really entering a new phase of Tesla's future," Mr. Musk said in his first big public appearance since being named to Twitter Inc.'s board.
Mr. Musk took the stage around 9:30 p.m. local time. He arrived at the stage in a Tesla Roadster, the company's first production car.
The billionaire entrepreneur also gave a glimpse of Tesla's products to come.
Among them, a new Roadster, due to enter production next year, along with the long-delayed semitrailer truck. He gave no details about the robotaxi, beyond saying, "it's going to look pretty futuristic." Mr. Musk said in 2019 that he expected Tesla to be able to launch a robot taxi service the following year. That didn't happen.
*Tesla tweet on the Texas event
Cyber Rodeo livestream will start at 9 pm CT on April 7 https://t.co/uMTxGMfYiQ

— Tesla (@Tesla) April 7, 2022
The Texas gathering's title borrows from the name of Tesla's long-awaited Cybertruck electric pickup, which, Mr. Musk said, would be built at the site starting next year.
"I can't wait to have this baby in production. It's going to be epic," Mr. Musk said.
The futuristic truck is Tesla's entry into the emerging electric pickup truck segment, which auto makers are counting on to convince more Americans to go electric. pickups make up roughly 18% of the U.S. auto market, according to J.D. Power, and are among car companies' more-lucrative products.
Rivian Automotive Inc. was the first to market with an electric pickup truck. Customer deliveries of its R1T started last year. General Motors Co. and Ford Motor Co. also have battery-powered pickups in the works.
Tesla announced plans in July 2020 to build the factory on more than 2,000 acres outside of Austin. It has over 10 million square feet of factory floor, the company says.
Mr. Musk said it was the largest factory in the world, with a size equivalent to three Pentagons.
First up for Tesla in Texas is the Model Y, the company's bestselling product, according to analysts' estimates. Tesla began delivering German-made versions of the compact sport-utility vehicle to customers last month.
Tesla produced around 930,000 vehicles in 2021 from its Fremont, Calif., and Shanghai factories and has been aiming to increase deliveries to customers by an average of about 50% annually.
*Tesla is expected to deliver a total of roughly 1.5 million vehicles in 2022, according to analysts surveyed by FactSet.
source:WSJ/TESLA/Thejournalbiz
Photo:Tesla.inc