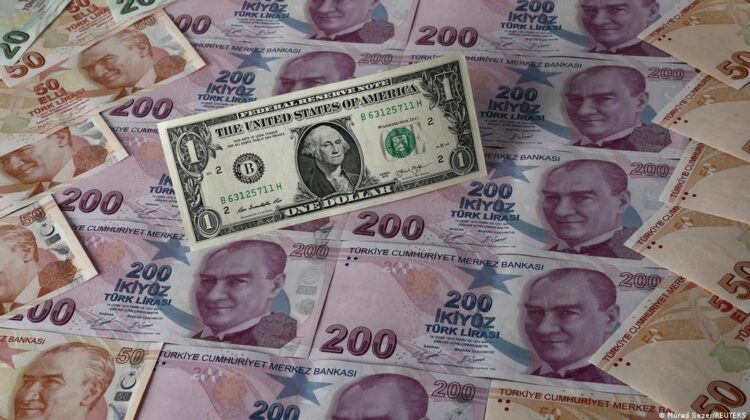 Turkish lira, on the verge of hyperinflation!  
Hyperinflation has arrived in Turkey!
At least that's the stance of the major foreign businesses like for Citigroup, Vodafone with operations in the country, for the purposes of financial reporting.
Companies ranging from some of the world's biggest banks to Vodafone Group Plc and a Dutch coffee seller have started using what's known as hyper-inflationary accounting, which also factors in effects of the local currency's depreciation
Tweet on Lira's hyperinflation
Turkish Hyperinflation Already Here for Citigroup, Vodafone,Bloomberg finds

While, IMF's gave a grim outlook on their year-end 2022 global prediction consumers inflation! pic.twitter.com/lj7JAfpenJ

— The_Journalbiz (@the_journalbiz) August 16, 2022
KPMG Consultancy says switching to the rule applies to economies where the cumulative rate of price gains over three years is nearing, or exceeds, 100%.
Price growth in Turkey has been in double digits almost without interruption since the start of 2017
It basically exploded this year to near a quarter-century high on the back of soaring commodity costs and the central bank's reluctance to raise interest rates.
Bloomberg Economics predicts annual inflation will reach a high of 91% in the third quarter and only slow to 69% at the end of 2022.
Recently ING Groep NV said it started applying what's known as rule IAS 29 for its business in Turkey, following a similar announcement earlier by Banco Bilbao Vizcaya Argentaria SA. Citigroup Inc. also said that it's switched its accounting in Turkey to the U.S. dollar after deeming the economy there to be "hyperinflationary."
@thejournalbiz
source:Bloomberg/IMF
Image:Turkish lira