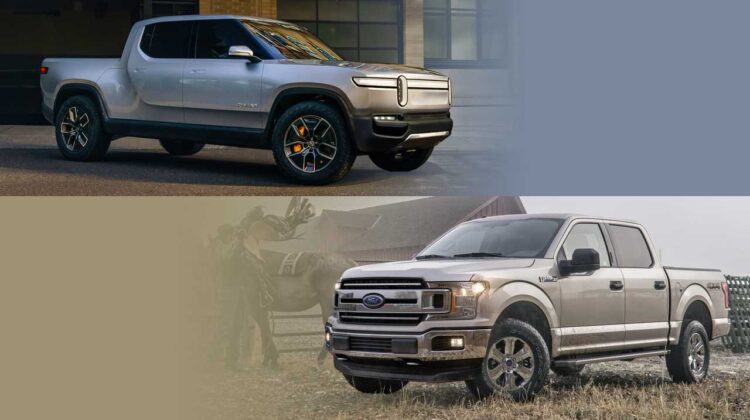 Ford F-150 Lightning' beats Rivian's EV pickups for a mile!
Ford Motor's 2022 F-150 Lightning pickup will have an electric range of up to 320 miles,
according to final Environmental Protection Agency estimates released Monday by the automaker.
The top range of the all-electric pickup is 20 miles higher than Ford initially estimated, which places it just above the range of the Rivian R1T.
The Rivian R1T with a larger optional battery pack is rated at circa 314 miles.
But Rivian and GM both confirmed longer-range options of the pickups will be available at later dates,
including an R1T with a range of more than 400 miles and GM's  Hummer pickup rated at 350 miles, CNBC reports
*Ford tweet on f-150 Lightning model
This video is short, but you know what isn't? The EPA-estimated range of the #F150Lightning. pic.twitter.com/R3Jy0MqIsx

— Ford Trucks (@FordTrucks) March 21, 2022
While the F-150 Lightning has a lower range than the Hummer, it is more efficient.
Both the Lightning and the R1T have a combined highway and city rating of 70 MPGe, an electric vehicle range equivalent for miles per gallon.
Overall, the F-150 Lightning will come with a range of 230 miles, 300 miles or 320 miles, depending on model and size of the battery packs in the vehicles.
*CNBC Comparison chart; Ford F150 vs Rivian R1T
Ford is expected to start serial production of the F-150 Lightning shortly, with deliveries beginning in the spring. 
A work-oriented version of the F-150 Lightning will start at about $40,000, while a high-end model will top out at about $90,000.
A Tesla pickup could one day lead the pack, but the date remains unclear
Few years ago Elon Musk unveiled his automaker's Cybertruck in November 2019, he claimed versions of the sci-fi electric pickup would have a range of 500 miles.
Musk said in January that production of the pickup suffered several delays and is not expected until next year.
Source: WSJ/Cnbc/Thejournalbiz
Photo:Ford, Rivian.inc