Supply crisis continues, as EV prices soars!
General Motors signed a long-term agreement to source cobalt from commodities firm Glencore! 
The latest in the auto industry's rush to secure key battery ingredients for electric vehicles as raw materials prices rise.
Glencore, the company that will supply GM with cobalt, a critical metal used in the production of batteries, company operates in Australia.
The auto maker plans to use the material in its proprietary batteries, which are expected to power new plug-in models such as the Chevrolet Silverado EV and electric GMC Hummer.
The move comes after,
Ford Motor Co. also said it has signed a preliminary deal with an extraction operation in Argentina to buy lithium, another key material in battery making.
Car companies, which have outlined aggressive targets for boosting sales of electric vehicles, are getting increasingly nervous about rising costs for raw materials such as cobalt, lithium and nickel that were in tight supply even before the pandemic hit.
*Chart on Lithium demand vs Supply forecast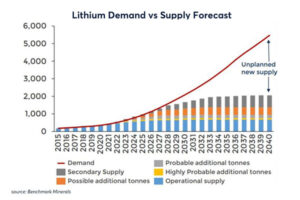 As demand has surged,
prices have only moved higher and are now being further elevated by new supply-chain disruptions related to the Ukraine war.
Battery-grade cobalt prices tripled from the end of 2019 through March, according to Benchmark Mineral Intelligence, which tracks the global battery supply
Elon Musk, CEO's EV  leader Tesla tweeted  that the price of lithium has gone to insane levels. "Tesla might actually have to get into the mining & refining directly at scale, unless costs improve," Elon tweeted
Price of lithium has gone to insane levels! Tesla might actually have to get into the mining & refining directly at scale, unless costs improve.

There is no shortage of the element itself, as lithium is almost everywhere on Earth, but pace of extraction/refinement is slow.

— Elon Musk (@elonmusk) April 8, 2022
Prompting the prices for Tesla vehicles soaring.
The cost of one configuration of the Model Y,  Tesla's most popular model, jumped 30% 
Rivian Automotive, an automotive startup that, like Tesla,is focused exclusively on selling electric trucks and SUVs, warned in its 2021 annual report that rising costs for lithium, nickel and cobalt could weigh on its business and pricing is expected to remain volatile for the foreseeable future.
@thejournalbiz
Sources: WSJ/Barrons
Photo: EV cars